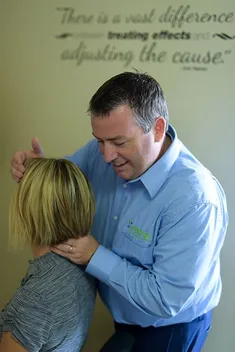 At Synergy Chiropractic, we believe that prevention is better than a cure, and being your best is key to achieving balance, wellness and the highest quality of life. Proper chiropractic care is a way of life. Its goal is not simply to alleviate pain, but to ensure proper nervous system health. The end result is a healthier body, less stress, more energy and greater resistance to disease.
Call us today at 937.748.8770 for a free initial consultation and spinal function computer scan!
Facility
Our chiropractors are proud to provide a clean, comfortable, cutting­-edge facility.
Appointments
If you would like to make an appointment, please contact our office by phone or email. If you would like to request an appointment online, click 'Contact Us' above. A member of our staff will follow up with you.
Financial
Our practice accepts cash, check, and major credit cards. We will be more than happy to submit your insurance forms for you, and we accept most major insurance providers. Please call our office to verify whether your specific insurance plan is accepted. Payment plans and schedules can be discussed upon request.
Cancellation
If you would like to cancel an appointment, we ask that you provide us with at least 24 hours notice. A fee may be charged for a no­ show or late cancellation, and patients may be discharged from our practice for repeatedly missing scheduled appointments.